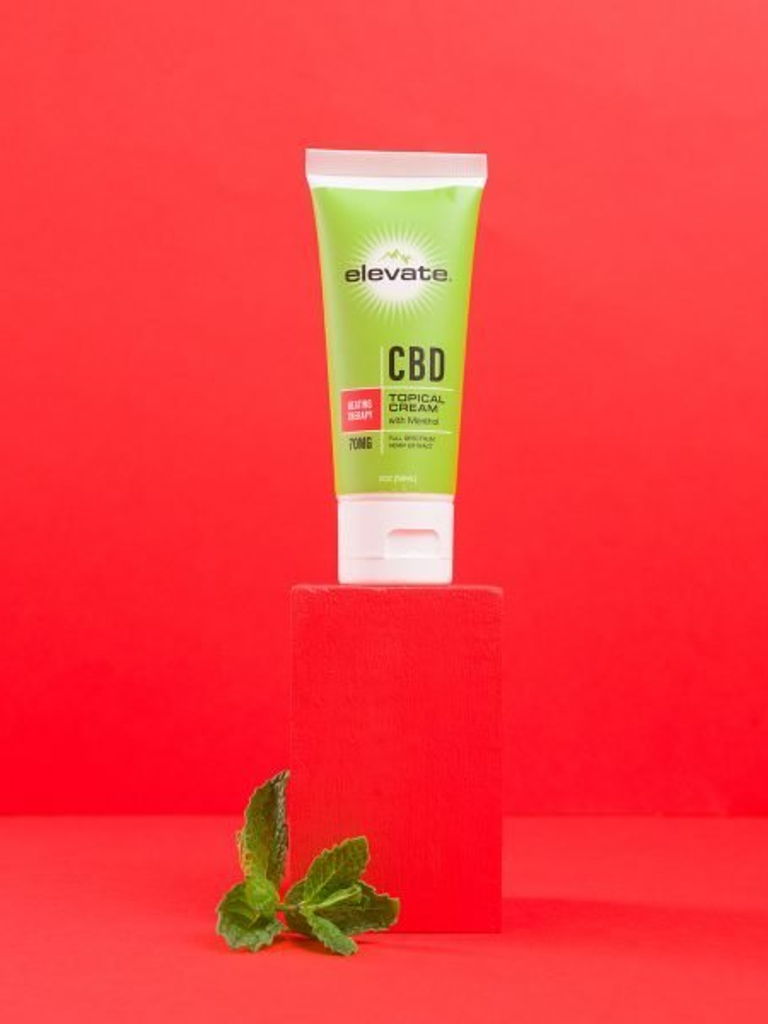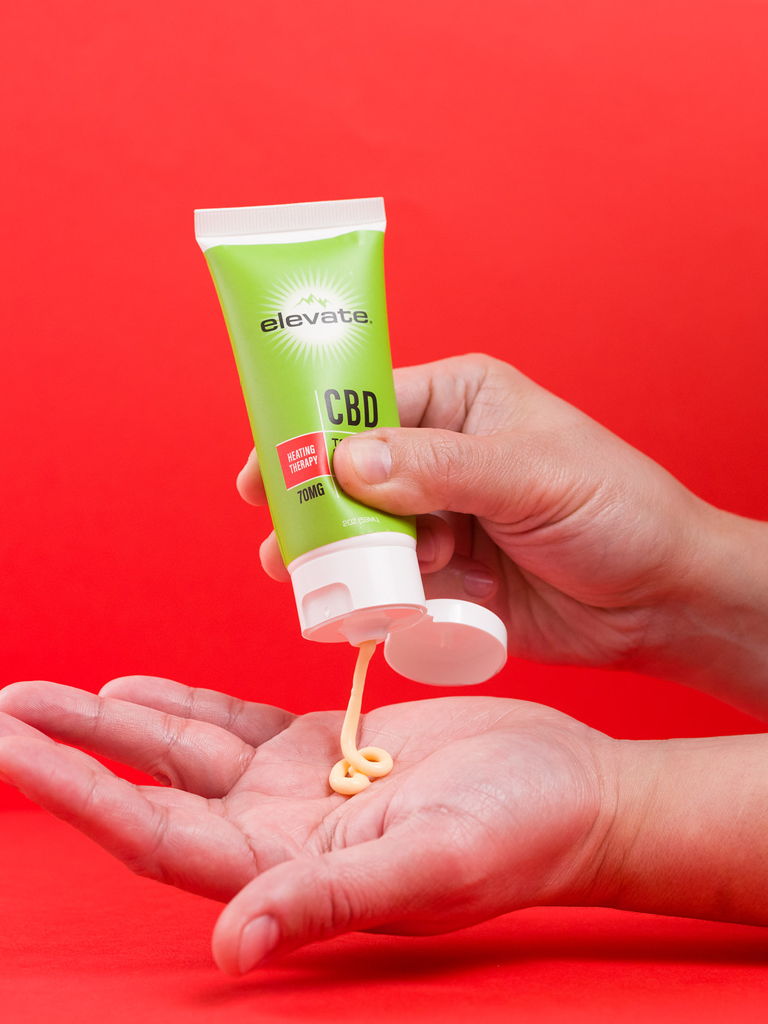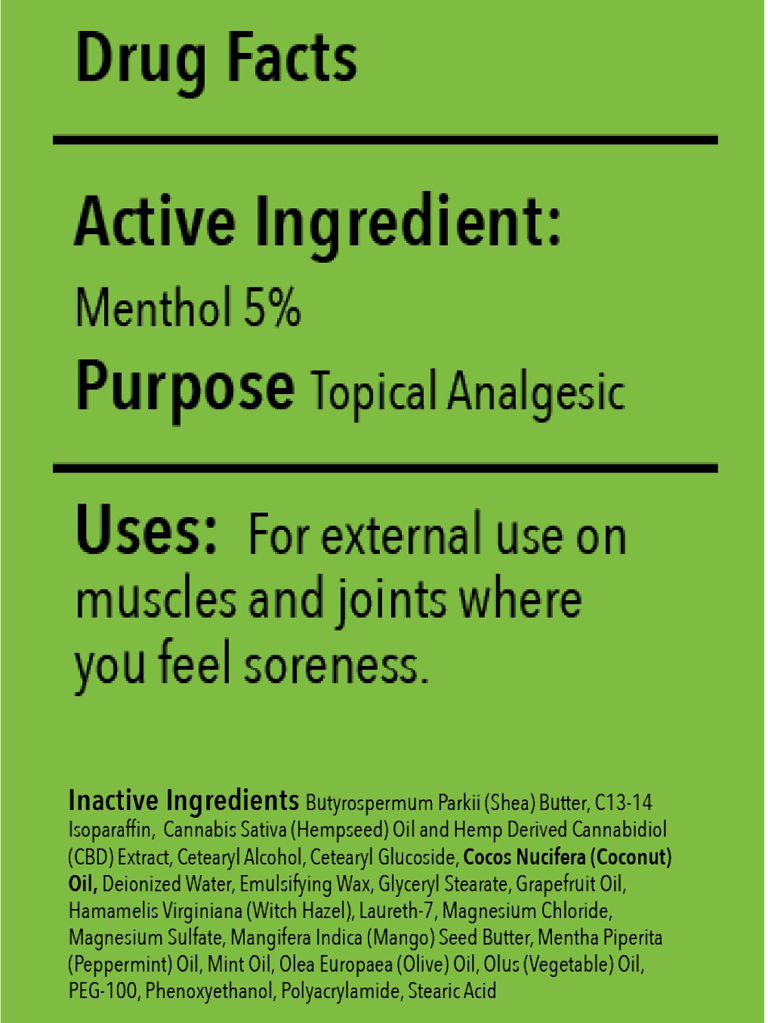 Elevate CBD pain relief Topical Cream helps temporarily alleviate minor aches and pains in muscles and joints associated with arthritis, backaches, strains, bruises, and sprains. Perfect for on-the-go, airplane travel, or those with only periodic soreness. Also available in cooling therapy.
9
Reward Points
with this purchase*
Key Product Facts

70mg Full Spectrum CBD

Less than 0.3% THC by weight
Vegan, No artificial colors
Locally sourced hemp from the northeast region of the U.S.
Produced in FDA registered, cGMP facility
Lab-tested for accurate potency, purity, quality and safety
Activates your body's endocannabinoid receptors to promote balance
OTC-Registered; NDC code: 76348-45
How to use:
Apply desired amount to areas where you feel soreness. Reapply as necessary.

Quality Guarantee
Elevate CBD sources its hemp in the USA. Products are manufactured in FDA-registered, cGMP facilities and are lab tested for accurate potency, purity, quality, and safety. We stand by our mission to bring you the best CBD, If you should have any issue with your purchase let us know and receive a full refund or exchange.
Warning : If you are pregnant, nursing, taking medications and/or have a medical condition(s), please consult with a physician prior to use.
10 Reviews
I have lower back pain and this has helped me tremendously to relieve that pain. I am very happy with this stuff!
I have rheumatoid arthritis and a friend sent me a jar of this cooling formula. My knees were not just "warm" they were hot. I'd figure I try this. soothing would be what I needed. What a difference!I'm so happy a friend said " Try this it might help." I tell all my friends who have muscle problems about this product.
I absolutely love using the heating cream after a long run. It has helped reduce swelling and speed up recovery from my intense races. It also helps me relax a bit more. I have found the heating and cooling cream definitely last a lot longer than other creams on the market(Bengay, IcyHot).
First of all, I'd like to thank Cindy Blum and Tim Francisco for their help. I was having problems submitting an order online so I sent an email for help. Cindy responded and asked Tim to send me the product. I never expected to receive it the very next day! This cream is amazing! I have Neuropathy in my feet and the Elevate cream-heat is wonderful and helps me sleep at night. I recommend this cream for any pain as I have also used it on other areas of my body. Thank you Cindy and Tim for your help and thank you Elevate for the amazing cream!
On Tuesday this week I came down with Gout on my left big toe. Went to my doctor on Wednesday morning and he prescribed a steroid. I was waiting on the prescription to be filled and applied the CBD warming cream 4 times and by late Wednesday afternoon the pain had subsided enough that I did not use the steroid. By Thursday morning the pain was almost non existent.
Does a great job for joint and muscle pain. Starts to work quick.
I sprained my ankle and this cream helped mitigate the muscle and ligament pain, making recovery easier.
Although I've given this product 3 stars, I'm not rating it's effectiveness just yet except to say I've purchased a jar but nowhere do I see "Direction" for use. Are there guidelines for how often this should be applied? It seems to me that ought to be stated somewhere on the label (and/or on this site).
This extract cream is really making all of my aches and pains going away. I've used the other pain creams bought at other stores but this hemp cream is really doing the job. I'm recommending this to my friends as a first remedy before buying any other products.