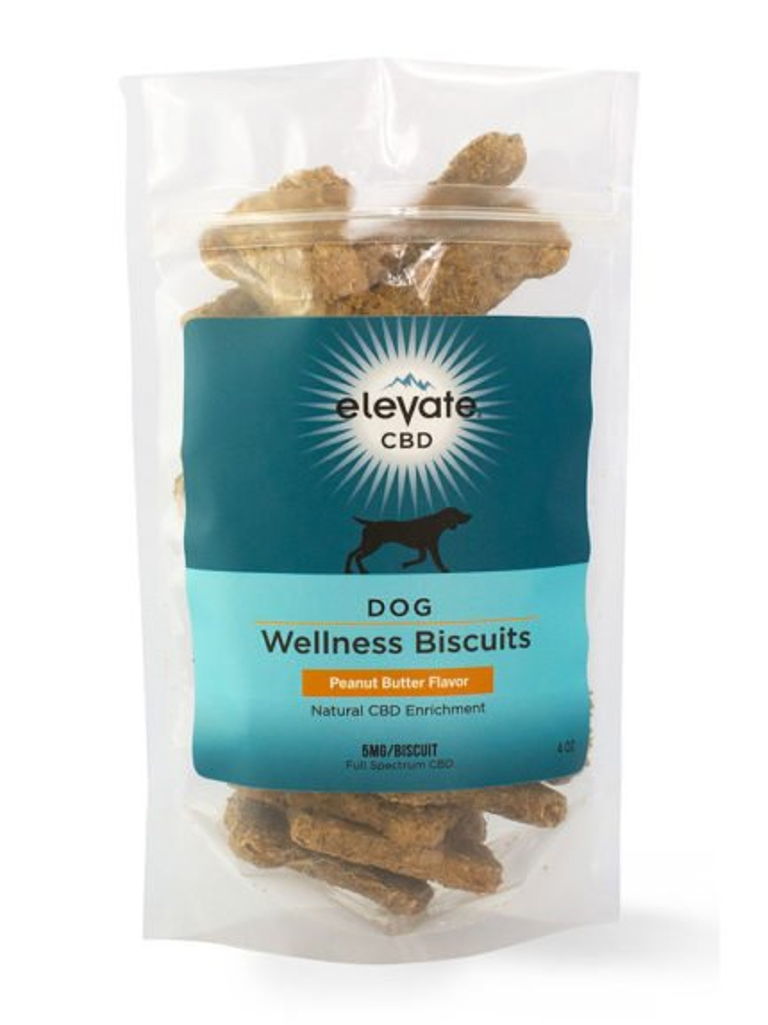 For your furry best friend, Elevate CBD Dog Biscuits are crunchy, tasty treats that are hand-crafted with care and baked in small batches so you and your dog can live the happy, active lives together. Made with only natural ingredients, you can trust Elevate CBD Biscuits to be pure and safe for your dog.
11
Reward Points
with this purchase*
Key Product Facts
Available in a 4-ounce bag; 5mg CBD per biscuit
All-Natural; No artificial colors, flavors, preservatives; Free from alcohol, corn, soy, hops, salt, sugar
Locally sourced hemp from the northeast region of the U.S.
Produced in FDA registered, cGMP facility
Lab-tested for accurate potency, purity, quality and safety
Activates your pet's endocannabinoid receptors to promote balance
How to use
There is no official recommended serving size or dose for CBD. Our suggested usage is intended to serve as a starting point and should not be considered medical advice. We suggest starting with 2mg of CBD for every 10lbs of weight, two times per day. Because metabolism varies, you may increase or decrease dosage until you find the appropriate level for your pet. We suggest daily usage around the same time for at least 2 weeks to see results. For use with pets over the age of 12 weeks.
WARNING: Contains Peanuts. For use with pets over the age of 12 weeks. Your pet should not use if pregnant or nursing. If your pet is taking medications and/or has a medical condition, please consult with a veterinarian before use.
Warning : If you are pregnant, nursing, taking medications and/or have a medical condition(s), please consult with a physician prior to use.
1 Review
Our Large old dog loves these
Our large old dog love these, its his evening treat
BUY THESE NOW! Seriously. Like, right now, now. We live in the city. Our neighborhood is very active especially in the warm months: fireworks (just because) and then don't get me started on the weeks around 4th of July. Nothing worked to calm our pup (60 Ibs lab/retriever mix). Thunder jackets and white noise machines made her anxiety worse. We were tired of running to the vet for meds that didn't really work (and were $$$). It's awful to watch your furbaby get so worked up and not be able to calm down due to the stress of the noise. She'd shake. She'd anxiety pant. Her coat would change due to stress. Plus, she likes to sit ON me to protect me (oof!). It's hard on this mama to watch. The elevate biscuits changed everything. Within the first 30 minutes(or so), she was more mellow, didnt get worked up to that highest level and she could calm herself down. Total game changer and now a staple in the care of our pup. I cannot recommend these enough.